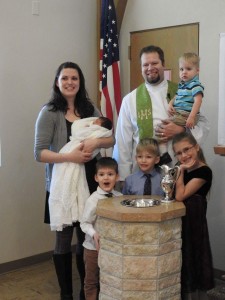 Pastor Mike Kuschel has served St. Matthew's in Danube and St. Matthew Flora Twp since he graduated from Wisconsin Lutheran Seminary in 2007. Pastor Kuschel grew up in Wisconsin and attended Luther Prep School (LPS) in Watertown, WI. He graduated from LPS in 1999. From there he went to New Ulm and graduated from Martin Luther College (MLC) in 2003.
Pastor Kuschel met his wife Beth at MLC and they were later married in 2004. Pastor Kuschel and his wife Beth have been blessed with five children: Ellie, Henry, Noah, Oliver, and Penelope.
Pastor Kuschel enjoys spending time with his family, preaching and teaching, and he also enjoys playing baseball, soccer, and hockey. If you live in our community you might recognize Pastor Kuschel as a member of the Sacred Heart Saints (an amateur baseball team) or you might recognize him from the 212 WELS Soccer Camp that our local WELS congregations hold in Danube every year.