Loading images...
St. Matthews Lutheran Church of Danube Welcomes You
In service to Christ, our family of believers at St. Matthews strive to provide the following:
Worship Services   Sunday School  Streaming Worship Services    Bible Classes
Confirmation Classes   Adult Information Classes  Scriptural Counseling
Choir  Ladies Evening Circle   212 WELS Soccer Camp  Marriage Counseling
Youth Group: 212 Teens 4 Christ   Shut-in Visitation  and more
__________________________________________________________
Outdoor Worship in Renville – Sunday, August 5
Our annual outdoor worship service & hog roast will take place on August 5th next to St. John's Lutheran Church in Renville.  The worship service will begin at 10:00am with a concert and hog roast to follow around 11:30am.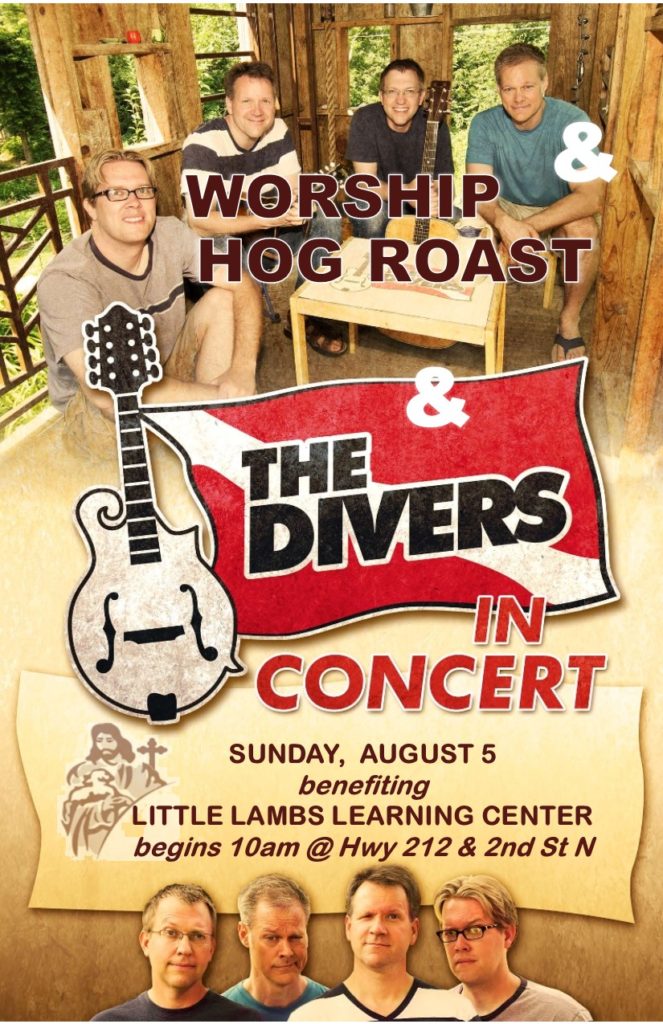 Our musical guest this year will be the Divers.
The Divers have been entertaining audiences with their varied musical style for over twenty years.  Good fun for every age group, the band features a unique sound that mixes elements of folk, rock, bluegrass, blues, and jazz.  Join us for worship, celebrate our fellowship of faith, support Little Lambs and our new called workers, and enjoy a day of good food, good music, and great fun.  Bring the whole family, invite your friends and neighbors, come on out and rejoice in the day the Lord has made.
Please note that there will be no worship service at St. Matthew's in Danube on August 5 as all of our local congregations will be coming together for this worship service in Renville.  
____________________________________________________________
Joint Ministry Presentation 
Jesus Christ is the same yesterday, today, and forever… We rejoice that the message of the salvation through Christ Jesus and God's holy will remain the same day after day, however, we know that the we bring this unchanging message to a changing world.  On Sunday, July 22 our congregations engaged in a conversation that discussed how we might face the challenges of change and take on the opportunities that God has placed before our area congregations.  May the Lord bless our efforts to share the unchanging message of the Bible to a changing world.
Below a link for our July 22 worship service is listed.  The special presentation on joint ministry begins around the 1 hour mark in the video.
https://www.youtube.com/watch?v=0Y0jSsQgqbo
May the God of peace, who through the blood of the eternal covenant brought back from the dead our Lord Jesus, that great Shepherd of the sheep, 21 equip you with everything good for doing his will, and may he work in us what is pleasing to him, through Jesus Christ, to whom be glory forever and ever. Amen.
__________________________________________________________________________________
Confirmation Sunday – May 13 
After  instruction in God's Word, Holly Ferguson and                                                            Chandler Ferguson,  publicly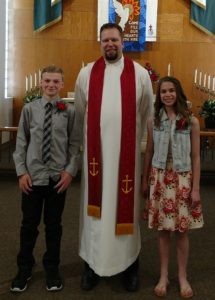 confessed their faith in a special confirmation service on May 13.  During the service Holly and Chandler recited portions of the catechism,  answered questions concerning their faith, and recited Bible passages.  They also made promises to remain faithful to God's Word and declared their intent to become active members of St. Matthew's Lutheran Church of Danube. May God bless Holly and Chandler through this experience as he strengthens and confirms them in the faith, and may he build up and edify the entire congregation through their confession.
O Lord, send to us your Spirit!
Sanctify us by the truth, your Word is truth! 
______________________________________________________________
Pastor Kuschel has received a Divine Call
The Lord has led the members of Immanuel Lutheran Church in South, Lyon, MI to extend a call to Pastor Kuschel that he might be their next pastor.  Please keep in your prayers, Pastor Kuschel, his family, and all the congregations involved .
_____________________________________________________________
GriefShare: Your Journey from Mourning to Joy: 

GriefShare is designed to be a friendly, caring group of people who will walk alongside you through one of life's most difficult experiences.
Built around a 13-week video curriculum, GriefShare support groups meet weekly to help you face the challenges of grief and move from mourning to joy.
The area WELS churches support groups that meet in Danube, Olivia, and Renville throughout the year.  If you or someone you know would like to know more about this program please pick up a brochure in the back of church or contact your pastor.  Watch the video below for more information about GriefShare.
______________________________________________________________
Little Lambs Learning Center
Preschool and Childcare Center
"It's our plan at Little Lambs to keep your child in Jesus' hands"
For more information visit us at www.littlelambseclc.org
320-826-2340
Latest Devotion or News
____________________________________________________________
Like Us on Facebook to receive weekly updates and special announcements 
_____________________________________________________________________________